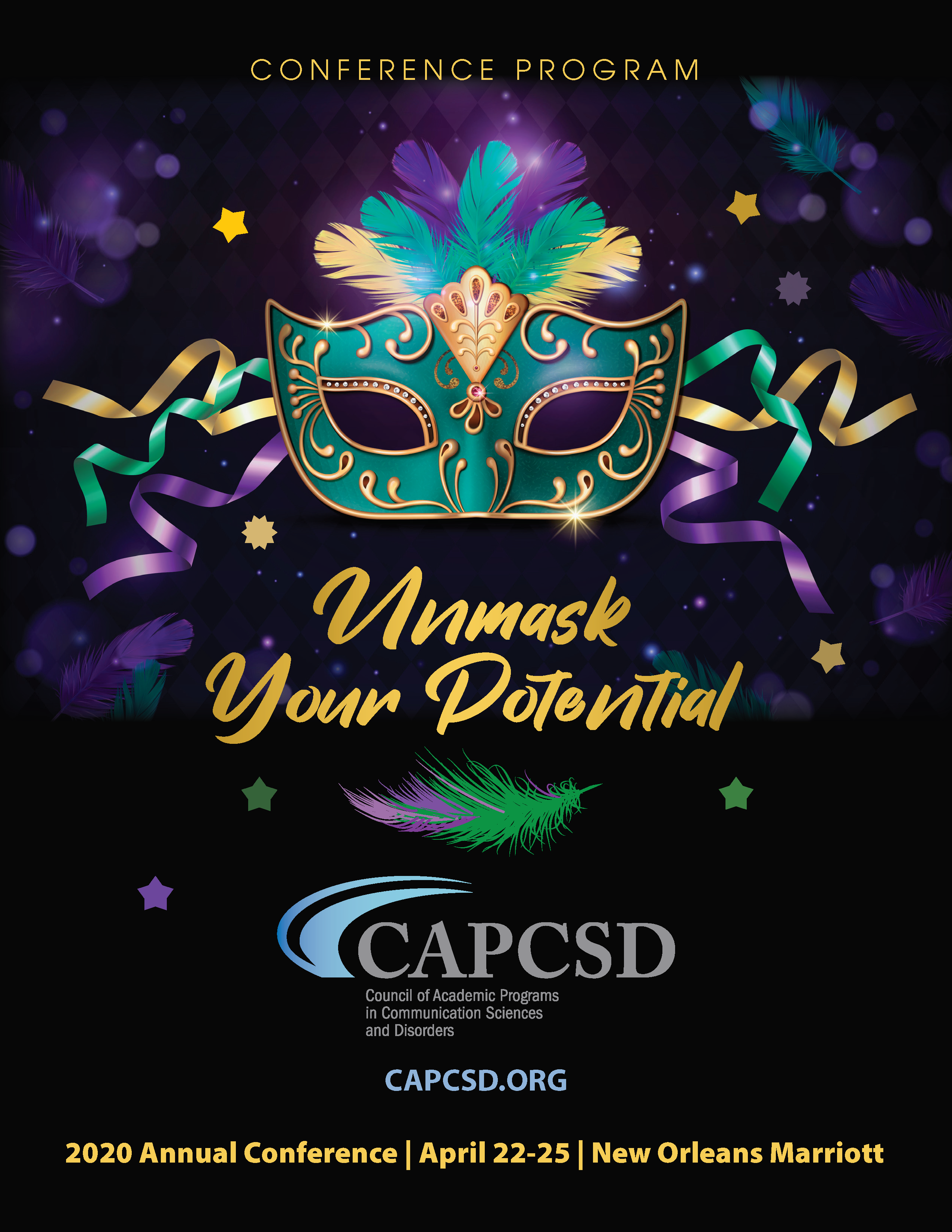 Exhibitor Registration will open by the end of January.
The Council of Academic Programs in Communication Sciences and Disorders (CAPCSD) is an organization representing over 300 academic programs in universities and colleges that offer undergraduate, graduate, and doctoral education in audiology, speech-language pathology, and speech-language-hearing sciences.
The conference will be attended by approximately 550 program representatives from the United States and other countries. These individuals are responsible for purchasing equipment and materials for their programs as well as making recommendations and decisions regarding textbook selection. They are interested in the latest teaching technologies that apply to lecture, small-group, and laboratory teaching, as well as equipment to facilitate research data collection in the speech, language, and hearing sciences. Databases and other programs that track student progress, accreditation tasks, and client services are of interest as well. Approximately one-half of the attendees are responsible for providing clinical service delivery and therefore have and interest in business applications that permit more efficient and effective delivery of services in a rehabilitation environment.
In 2020, one-on-one exhibitor appointments will be offered to provide participants the opportunity to schedule appointments with exhibitors outside of the scheduled meals and breaks.  The popular CAPCSD Scavenger Hunt, with prize giveaways, will be held again this year to encourage attendees to visit the exhibit hall. Please note that exhibitors must supply a prize giveaway in order to participate in the scavenger hunt.
We hope you find exhibiting at the conference to be a positive experience. We strive to offer conference attendees ample time to visit the exhibit hall in order to see the latest products and services utilized within the profession.
Visit CAPCSD's website: https://www.capcsd.org/annual-conference/ to find information about the organization and the upcoming conference content.
Exhibitor Pricing
Corporate/Business Exhibitor     -     $950 with 1 meal package*
Non-Profit Exhibitor                      -     $650 with 1 meal package*
*All additional exhibitor staff must purchase a meal package at $400 per person.
Exhibitors receive:
One 6' display table, two chairs, and a wastebasket.
Three breakfasts, two lunches, breaks, and the welcome reception for one staff member. Additional exhibitor staff must purchase a meal package at $400 each per person.
One (1) attendee list. The exhibitor must select to receive the list three (3) weeks preconference or one (1) week after the conference.
Listing (organization name) in the digital conference program, CAPCSD website, conference mobile app, and the online proceedings.
Note: Exhibitor staff who want to attend conference sessions must register separately for the conference.
Additional Exhibitor Opportunities
Program Ads in the Digitial Program
Full Page Ad - 7.50"W x 10.00"H @ 300 dpi, no bleed                       $1,000
Half Page Ad - 7.50"W x 4.75"H @ 300 dpi, no bleed                        $   500
Color ads for the digital conference program must be submitted in TIFF, EPS, EPS, JPEG, BMP or PDF format, 300 dpi or higher. The deadline for ads is Friday, February 21, 2020.
Conference App
Home Screen Sticky Banner (one available)                                       $   900
App Ad (four available)                                                                              $   350
Push Notification (seven available)                                                       $   100
Dimensions for conference app ads can be found at the bottom of this page.
Extra Items
Additional Table                                                                                         $   350
Additional Staff Meal Package                                                               $  400
                                          # available                                           Price   
Refreshment Break               3                                                  $2,600
Box Lunch                                2                                                  $3,000
Breakfast                                  2                                                  $3,500
Welcome Reception              1                                                  $4,000
Ice Cream Social                     1                                                  $4,500
Sponsors receive:
Two 6' display tables, four chairs, and a wastebasket.
Three breakfasts, two lunches, breaks, and the welcome reception for two people. Additional meal packages must be purchased for sponsor staff at $400 each.
One (1) attendee list. The exhibitor must select to receive the list three (3) weeks preconference or one (1) week after the conference.
Logo displayed in the digital conference program.
Logo displayed in the conference mobile app.
Logo displayed in the conference proceedings.
Logo displayed on the CAPCSD conference webpage with a link to the sponsor's website.
One half-page ad for sponsors of refreshment breaks and box lunches.
One full-page ad for sponsors of breakfast, welcome reception, and ice cream social.
Up to two registered sponsor staff may attend conference sessions.
Purpose of Exhibit: The exhibition is for the purpose of education and to provide a service to the CAPCSD membership.
Standard Exhibit Space: The exhibition space will be provided in the form of tabletop space. Exhibit space is not piped and draped. Each exhibitor will be provided with:
One draped table;
Two chairs; and
One wastebasket.
If you have requirements beyond the standard display space described, please contact the CAPCSD office at (303) 835-9089, michelle@capcsd.org, as it may impact your booth location. Each exhibit includes meals for one staff member unless otherwise specified. Additional exhibit staff must purchase a meal package at $400 per person.
Around mid-February, exhibitors will receive an exhibitor package outlining:
Shipping procedures.
Set up and dismantle instructions.
Information on securing electricity, audiovisual equipment, and other supplies.
Pricing: The exhibit price includes all items described below under "Exhibit Fee Includes".  All payments must be received by the CAPCSD within 30 days of the invoice date. All exhibits and sponsorships must be paid-in-full prior to the start of the conference. Exhibitors will not be allowed access to the exhibition hall unless all fees have been paid-in-full.
Exhibit Fee Includes:
Rental of the exhibit space as described previously
Three (3) breakfasts, two (2) lunches, breaks, and the welcome reception for one staff member. Additional staff must purchase a meal package at $400 per person.
Recognition in the digital conference program, on the CAPCSD website, in the mobile app, and online proceedings.
One attendee list for one-time use. The exhibitor must select from three (3) weeks pre-conference or one (1) week post-conference.
Opportunity to participate in exhibitor one-on-one appointments.
Participation in the CAPCSD Scavenger Hunt is open to all exhibitors and sponsors who contribute a prize giveaway.
Exhibit Space Assignment: Booths are reserved on a first-come, first-serve basis. Reservations will be honored only after receipt of registration and payment. CAPCSD reserves the right to change the location assigned to an Exhibitor at any time as it may, in its sole discretion, deem necessary in the best interest of the Event. Exhibitors may not sublet or permit the use of all or any part of the exhibit space.
Exhibitors agree to abide by all facility rules and exhibit display guidelines. Exhibits not conforming to these guidelines, or which in design, operation or otherwise, are deemed objectionable by CAPCSD in its sole discretion, will be prohibited. If Exhibitors engage in any conduct in violation of the rules and or applicable laws, CAPCSD reserves the right to cancel the Exhibitor's space without further notice and without obligation to refund monies previously paid. CAPCSD further reserves the right to reject the Exhibitor's application to exhibit in future shows of CAPCSD. Exhibitors and their representatives shall at all times conduct themselves in a professional manner and shall not disparage or defame fellow exhibiting companies or conference participants.
Exhibit Operation, Décor, and Conduct:
No adhesive-backed promotional items may be distributed or used at the Event.
No decorations of any kind may be fastened to ceilings, painted surfaces, columns, walls or windows.
Decorations may not block doors, fire extinguishers, sprinklers, emergency equipment signage, emergency exits or lighting systems.
Signage may not extend beyond the perimeter of the booth space.
Interference with the lighting, visibility, and space of other exhibitors is prohibited.
The use of objectionable amplifying or lighting equipment is prohibited; Self-supported audio equipment must be directed so as not to pose a sound level nuisance to other exhibitors.
Exhibitors may not schedule any functions or events which conflict with officially scheduled CAPCSD events.
Other than service animals, the use of live animals is prohibited in Event.
Food and beverage may be dispensed from Exhibitor's booth within the following guidelines:

The distribution area must be kept clean and attractive.
All attendees must have the opportunity to receive samples.
Any food and beverage distributed must be coordinated with the Event facility.

Due to licensing and copyright regulations by ASCAP/BMI regarding music at public meetings, conventions, and shows, exhibitors may not play music during the exhibition, either live or recorded.
Professional Conduct: Exhibitors should adhere to professional standards of behavior. All solicitation, demonstration and other promotional activities must be confined to the limits of the exhibit space.
Badges: Exhibitor representatives must wear appropriate CAPCSD badges at all times in the exhibition hall. The badges will be available at the booth in the exhibitor packet.
Security: Although CAPCSD and the facility may maintain a security force, exhibitors are responsible for the safety and security of their exhibits and should consider removing from the exhibition hall, or otherwise securing all equipment, supplies and other materials at the close of each conference day.
Cancellation: All requests for cancellation of exhibit space must be made in writing and shall become effective upon receipt by CAPCSD. A full refund of event fees, less a $200 administrative fee, will be granted if written notice is received by Friday, March 6, 2020. No refunds will be given after March 7, 2020.
Liability: The exhibitor assumes entire responsibility and hereby agrees to protect, indemnify, defend and save CAPCSD, the owner of the host facilities, and their respective employees and agents harmless against all claims, losses, and damages to persons or property, governmental charges or fines and attorneys' fees arising out of or caused by the exhibitor's installation, removal, maintenance, occupancy, or use of exhibition premises or any part thereof, excluding any such liability caused solely by the gross negligence of the owner of the host facilities, its employees and agents.
In addition, the exhibitor acknowledges that CAPCSD and the owner of the facility do not maintain insurance covering the exhibitor's property, and it is the sole responsibility of the exhibitor to obtain business interruption and property damage insurance covering such losses by the exhibitor.
Neither party shall be liable to the other for any special, indirect, incidental, consequential, punitive or exemplary damages or loss, nor any lost profits, savings, or business opportunity. With respect to this agreement in general, the liability of CAPCSD and its personnel shall not exceed the total amount of fees actually paid to CAPCSD under this agreement. A claim for the return of fees shall be the exclusive remedy for any damages. The limitation of liability set forth in this paragraph is intended to apply to the full extent allowed by law, regardless of the grounds or nature of any claim asserted and shall survive termination of this agreement.
Interpretation and Amendments: CAPCSD reserves the right to interpret or amend these Terms and Conditions as it deems proper to ensure the success of the exhibition and further the educational purposes of CAPCSD.
Conference Cancellation: In the event, CAPCSD is unable to hold the conference due to an act of God, war, terrorism, fire, strike, exhibit facility construction or renovation, government regulations, curtailment of transportation facilities or other cause beyond the control of CAPCSD, which make it impractical, inadvisable or impossible to hold the conference, CAPCSD in its sole discretion shall determine and may refund to the exhibitor/sponsor/advertiser its proportionate share of the balance of the aggregate exhibit or sponsorship fees received which remain after deducting expenses incurred by CAPCSD, but in no case shall the amount of the refund to the exhibitor, sponsor or advertiser exceed the amount of exhibitor, sponsorship or advertiser fee paid to CAPCSD. CAPCSD shall have no other or further liability to the exhibitor, sponsor or advertiser.
Notices:
As new privacy laws are enacted, i.e. the European Union's GDPR and the state of California's new privacy law, CAPCSD's ability to share the participant list, including emails, may come to an end after the 2020 conference. There is no change for 2020.
CAPCSD does not initiate calls to sell sleeping rooms and under no circumstances is a full non-refundable payment at the time of reservation required. Please call us at (303) 835-5089, if you are contacted by a housing company. No housing company is contracted or endorsed by CAPCSD and despite their claims, they do not have access to our negotiated discounted rates.
Conference App - Ad Options
Sticky Banner
The sticky banner displays on the main screen and attaches to the edge of the menu on the bottom of the screen. It is always visible and remains stationary
while scrolling on the main screen. Main Screen Sticky Banner (width x height)
Tablet - 2,048 pixels wide x 200-500 pixels high
Phone - 1,536 pixels wide x 150-400 pixels high