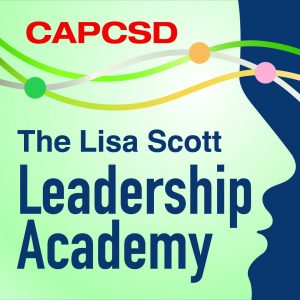 The Lisa Scott Leadership Academy will be held in
April 2025 in Atlanta, Georgia, at the Marriott Marquis.
Watch your email for information in September 2024.
As part of its mission to provide visionary leadership for academic programs in Communication Sciences and Disorders and to promote the professional development of its constituents, CAPCSD offers this program to support individuals considering academic leadership positions, or those who are newly engaged in academic leadership, to develop their knowledge and skills in leadership.
Selected participants receive complimentary registration to The Lisa Scott Leadership Academy and CAPCSD annual conference, two nights hotel, and some meals.
Eligibility Guidelines
Faculty from CAPCSD member programs are invited to apply.

Participation is limited to 20 faculty, chosen through a competitive process, limited to one faculty per member program.

The CAPCSD member program membership dues must be paid in full by September 15th.
The applicant must have an individual membership with CAPCSD offered at no-cost. Click here to create a membership account, if you do not already have one, using your university email.

Participants agree to attend the CAPCSD annual conference.
Application Process
Applicants will provide background information, a brief biographical statement (maximum 100 words), and respond to the following:
What are your professional goals for the next five (5) years?

Describe any past leadership experiences (academic or otherwise).

Describe an effective leader who you have encountered. What were the qualities you feel made them effective?

When you think about moving into a leadership role, what is appealing to you?

What do you think you might like least about an academic leadership position?

If you can learn only one thing from the Academy, what would it be?