The CAPCSD annual conference is held in a major US city every spring. Over the past 41 years, it has gained a reputation as being the leading site for collaborating, connecting, and exploring issues in our field. The conference, based heavily on attendee feedback, is designed to offer sessions that inform administrators on hot topics, whether you are a Dean, Chair, Program Director or Clinic Director. Every year, we are pleased to offer engaging sessions from the leaders of the field. In addition, the conference receives numerous call-for-papers proposals, which adds to the diversity and dynamic of the available sessions. The conference is also designed to create a fun and social environment that encourages networking and interaction among attendees.
The Lisa Scott Leadership Academy
As part of its mission to provide visionary leadership for academic programs in Communication Sciences and Disorders and to promote the professional development of its constituents, the Council of Academic Programs in Communication Sciences and Disorders (CAPCSD) continues to offer a program to help individuals considering academic leadership positions, or who are newly engaged in academic leadership, develop their knowledge and skills in the area of leadership.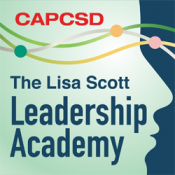 eLearning Courses – Clinical Education
CAPCSD developed four self-paced, online courses focused on the process of clinical education. Each course contains 5 independent modules worth CEU hours. These eLearning courses are at an introductory to intermediate level and meet ASHA's clinical educator requirement. Continuing education units are available through ASHA or AAA.
The four courses that are available are:
Foundations of Clinical Education
Effective Student-Clinical Educator Relationships
Feedback in Clinical Education
Assessing Student Performance
These courses are provided at no cost to CAPCSD member programs.
CAPCSD webinars and podcasts provide an opportunity to stay up-to-date on trends and evidence-based practices targeted for administrators, faculty, and PhD students. The webinars offer ASHA CEUs when attended live.