CAPCSD 2021 Virtual Conference
The Council of Academic Programs in Communication Sciences and Disorders (CAPCSD) is an organization representing over 325 academic programs in universities and colleges that offer undergraduate, graduate, and doctoral education in audiology, speech-language pathology, and speech-language-hearing sciences.
The 2021 conference will be different, exciting, and new! Program representatives from the United States and other countries will attend virtually.
The program representatives are responsible for purchasing equipment, materials, and services for their programs as well as making recommendations and decisions regarding textbook selection. They are interested in the latest teaching technologies that apply to lecture, small-group, and laboratory teaching, as well as equipment to facilitate research data collection in the speech, language, and hearing sciences. Databases and other programs that track student progress, accreditation tasks, and client services are of interest as well. Approximately one-half of the attendees are responsible for providing clinical service delivery and therefore have an interest in business applications that permit more efficient and effective delivery of services in a rehabilitation environment.
The 2021 virtual conference, although different than prior years, offers new opportunities.  We have worked extensively with our virtual conference provider and with a group of experienced CAPCSD conference volunteers to consider numerous virtual conference opportunities.  We have created what we believe will provide you with the best opportunity to meet, mingle, and interact with your current and potentially new customers at the CAPCSD 2021 virtual conference. You can choose your level of engagement and involvement.
Since there will not be in-person exhibits this year, CAPCSD has shifted to sponsor opportunities. Instead of an exhibit hall floor plan, there will be a sponsor logo wall. Instead of a tabletop in Atlanta, you will have an online booth.  Instead of shaking hands with CAPCSD conference participants, you can set up live video or text chats.
You can choose to engage with CAPCSD conference participants from four different levels.  Sponsor opportunities are available in the following tiers:
Silver
Gold
Platinum
Titanium
All tiers provide a virtual booth, booth banner to show off your virtual booth, 300 character description of your company/product/services, link to your website, category listing for enhanced search results, your company listing by name, category on the virtual conference website, and your logo on the CAPCSD website, conference app, and the digital conference program.  You can participate in giveaways and you will receive a conference attendee list.  With the Gold, Platinum, and Titanium levels you have more opportunities to engage with the conference participants.
Other items worth mentioning include the CAPCSD Virtual Quest developed for a virtual environment, prize giveaways if you want to participate, CEU education sessions, and more.
We hope you find sponsoring the 2021 conference to be a positive experience. We strive to offer conference attendees ample time to visit the exhibit hall to see the latest products and services utilized within the profession.
Visit CAPCSD's website https://www.capcsd.org/annual-conference/ to find information about the organization and the 2021 virtual conference program.
A note about the future: CAPCSD looks forward to seeing you again in person on April 20-23, 2022, in Portland, Oregon.
CAPCSD's Virtual Conference
What will it look like for you and the participants?
The video link below provides a high-level overview of what is available for virtual sponsorship. (Note: this video is generic and some items and verbiage will differ in the final version of the CAPCSD conference site.)
Sponsor Virtual Booth Overview Video 
The features of the booth you select will vary based on your sponsor level (Silver, Gold, Platinum, Titanium).  Below you will see the benefits of each sponsor level.  With CAPCSD's sponsor booths, the higher level of your sponsorship, the more information and interactivity you will experience with the participants.
The 2021 CAPCSD Virtual Conference is the BEST way to connect with CAPCSD members this year!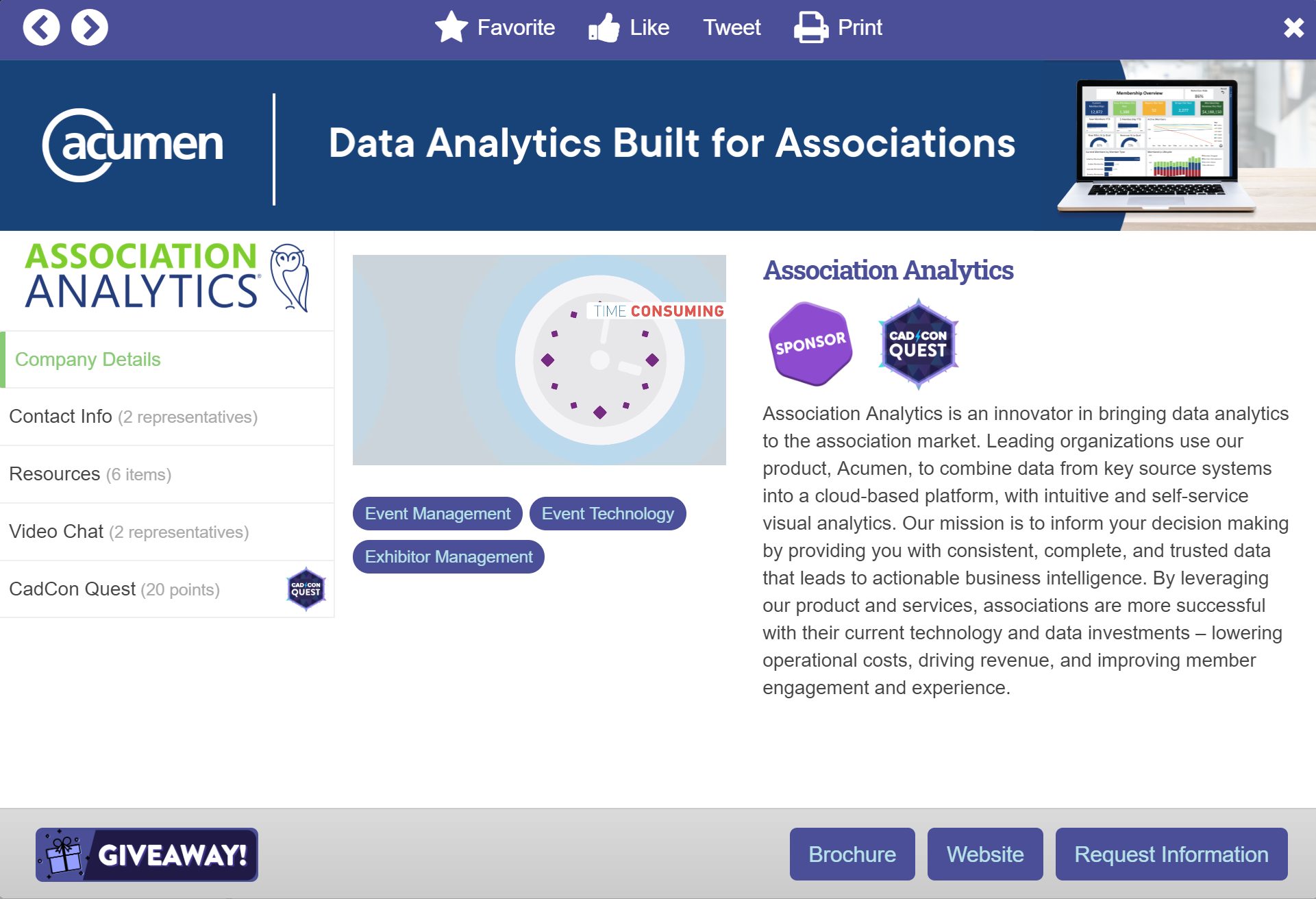 Sponsor Options
With a virtual booth, you can customize your virtual booth to maximize the impact on this year's attendees. Each sponsor level builds on the one before it and adds more ways to interact with the CAPCSD conference participants. Example of a basic booth vs an enhanced booth. Here are some of the exciting additions to a basic booth.  For information on upgrades, click on the links under each sponsor level.
Add a banner or video to your booth.
Participate in the CAPCSD Virtual Quest.
Share a video to introduce your company.
Interact with the participants using live video or text chat.
Access valuable attendee data with lead retrieval.
Sponsor Level                    Price
Silver Sponsor                        $950
Gold Sponsor                       $1,500
Platinum Sponsor             $3,000
Titanium Sponsor              $5,000
All Sponsors Receive:
Basic virtual booth for 2 ½ days.
Description of your company/products/services (300 characters).
One (1) link to the company website.
One (1) category listing (ex. publisher, association, video equipment, foundation, software, etc.). Allows participants to sort by category as well as the company name.
Company listing – Organization name in the conference mobile app, digital conference program, CAPCSD website, and on the CAPCSD virtual conference site.
Opportunity to participate in Giveaways.
Opportunity to participate in CAPCSD Virtual Quest.
One (1) conference attendee list.
 Gold Sponsors Receive:
Silver benefits, plus:

Enhanced virtual booth for 2 ½ days.
Description for your company/products/services (1,000 characters).
Four (4) category listings (ex. publisher, association, video equipment, foundation, software, etc.).
Upgraded listing on the virtual conference site (logo appears in browse by company & category instead of just text).
Half-page ad in the digital conference program.*
Company listing includes logo in the conference app, logo, and short description in the digital conference program and CAPCSD website.
Platinum Sponsors Receive:
Silver and Gold benefits, plus:

Enhanced+ virtual booth for 2 ½ days.
One (1) featured product/service in the CAPCSD Product Showcase.
Two (2) additional weblinks to company/product/service.
Lead retrieval data (who visited the booth, how many times, demographic information, etc.
Full-page ad in the digital conference program.*
Titanium Sponsors Receive:
All Silver, Gold, and Platinum benefits, plus:

Up to three (3) products/services listed in the CAPCSD Product Showcase.
One (1) 30-second infomercial played during conference (limited availability) *.
Education Session – 60-minute session (must be educational and not simply a product/service sales pitch).
A LA CARTE Items
30-minute education session - $500 **
60-minute education session - $1,000 **
30-second sponsor infomercial played during peak attendance during the virtual conference - $1,500 * (limited availability)
Virtual conference site landing page ad (company logo) - $400
Full Page Ad in Conference Digital Program - 7.50"W x 10.00"H @ 300 dpi, no bleed - $1,000 ***
Half Page Ad - 7.50"W x 4.75"H @ 300 dpi, no bleed - $500 ***
Conference registration is an additional charge - once you register and pay for your sponsorship and you want to register for the conference, you will receive a discount code so you will pay the current member rate ($350 for early registration until March 12, 2021, and $450 after March 12, 2021)
*All graphics and videos are the responsibility of the sponsor and must be delivered to CAPCSD staff no later than Friday, February 19 for conference digital program ads and no later than Monday, March 22, 2021, for the CAPCSD app and website.  CAPCSD reserves the right to deny graphics/video that they deem objectionable.  The earlier all logos, ads, graphics, and videos are added, the more times they will be seen by CAPCSD members.
**Must purchase a minimum of a Gold Sponsorship to purchase this item
*** Color ads for the digital conference program must be submitted in TIFF, EPS, EPS, JPEG, BMP, or PDF format, 300 dpi or higher. The deadline for ads is Monday, February 22, 2021.